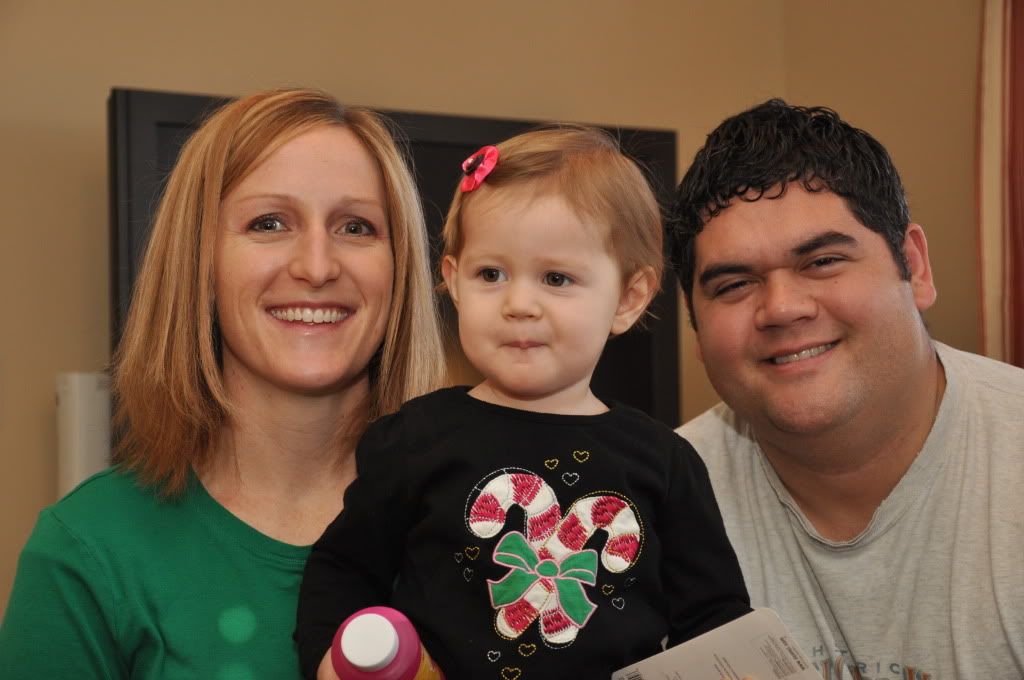 Last Christmas was very special because we had a new baby in our home which gave a different feeling to the festivities. This Christmas was more on the fun side because Bailey had somewhat of an idea of what was going on. We had prepped her by taking her to see Santa, which she hated, and we sang songs all month long about Christmas. So she kind of knew what was coming, but I think despite all of our "prep work", I was WAY more excited than she was.




Christmas Eve we spent getting some last-minute things together and spending time with each other. Bailey and I both slept in--she doesn't like sleeping anymore so she's been waking up late every morning and I've been up with a cough from about 2 AM - 5 AM every night so it was much-needed sleep. Omai was up bright and early though to start assembling Bailey's big present--a pink kitchen. I had procrastinated sewing a skirt for Bailey so I spent the afternoon doing that. We met my family at my dad and Lesli's for a beautiful spread of appetizers and sandwiches followed by a scrumptous dessert of chocolate fondue. My favorite were the avocado eggrolls from The Cheesecake Factory and Rice Krispy Treats to dip in the chocolate. Yummy!! We had to quickly exchange gifts before heading to the Graybills to see the family. Bailey got a Play-Doh kit from her Grandpa and I'm totally stoked about it. I might let Bailey play with it.

We were really late to the Graybill's and missed dinner, the nativity, and gift exchanging so I decided next year we're just going to do one family per day. It's no fun to have to rush around and miss stuff because of the time it takes to drive everywhere. Maybe if NASA comes up with a flying car we can make it work, but until then, I think we need to try and simplify.

When we got home we put Bailey to bed and I fell asleep on the floor as Omai told her a bedtime story. I woke up and came downstairs and thought about just leaving everything to be set up in the morning, but dug deep to find the energy to get Christmas all ready. It turned out to be really fun to play Santa with Omai and to imagine how Bailey would react to everything in the morning.

We all slept in again and enjoyed a quiet morning. We decided to wait for my mom and Paige to come out before taking Bailey downstairs so we all took showers and got dressed while we waited for them to arrive.